club member trip to champagne, france
Join me for a 6 day / 5 night luxury vacation designed exclusively for We Drink Bubbles Club Members. These unforgettable moments with the winemakers themselves are truly once in a life time experiences. The week will include private winery tours, intimate meals prepared by Michelin-starred chefs, and curated champagne tastings, all while enjoying the abundant amenities of our 5-star resort in the heart of Champagne.
_
JUNE 2024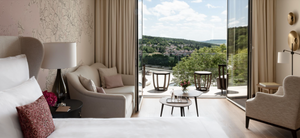 Luxury Accommodations
For five heavenly nights, you'll call The Royal Champagne Hotel & Spa your home away from home. This five-star boutique resort in Champillon, France boasts luxurious rooms with breathtaking views over the vineyards of Champagne. Lodging includes full access to the resort's amenities including a sauna, steam room, swimming pool and fitness center.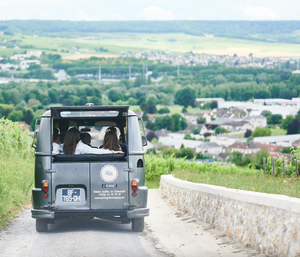 Exclusive Vineyard Tours
Of course, the highlight of the trip will be the vineyard excursions! We'll visit several private wineries and get behind-the-scenes tours from the winemakers themselves. These curated experiences will offer a rare glimpse into the heart of this majestic region and first-hand knowledge from the Champenoise families themselves.
Michelin-Starred Dining
From casually sipping bubbles on terraces overlooking the vineyards of Champagne to venturing further afield to dine by candlelight in a French Chateau, you'll enjoy six days of handcrafted dining experiences, all featuring curated Champagne and wine pairings. Everything from Michelin-starred meals to authentic French feasts prepared by locally acclaimed traditional chefs, these meals will leave lasting memories. 
Curated Wine Education
For those curious and eager to consider themselves a Champagne expert, you'll have several opportunities to join me for unique tasting classes. Together, we'll discover Champagne's history and learn more about the specific process and techniques of making champagne: from growing grapes to aging it in the cellar, and everything in between.
Itinerary at a glance...
DAY 1
Meet at Pickup Location
Welcome Reception/Checkin at The Royal Champagne Hotel
Aperitifs & Champagne with D. Massin on the Terrace
Champagne-Paired 3 Course Dinner at Bellevue
DAY 2
3 Course Champagne-Paired Lunch with Lucien Collard
Explore the Avenue of Champagne
Private Dinner at Couverts de Vignes
DAY 3
Picnic Lunch in the Vineyards
Blending & Disgorging Class in the Winery
Vineyard Buggy Tour
Dinner at Local's Favorite Sacre Bistro
DAY 4
Educational Champagne Tasting Class with Hotel Sommelier
Spa Day and Lunch at Hotel -OR- Lunch in Reims and Ruinart Tour
5 Course **Michelin Starred Dinner at Restaurant Le Parc
DAY 5
Vineyard and Winery Tour with Michel Laval
Hosted Champagne Lunch at the Winery by Michel Laval
3 Course *Michelin Starred Dinner at Restaurant Le Royal
DAY 6
Farewell Lunch ont he Terrace
Bus Departs for Paris
FIND OUR MOST FREQUENTLY ASKED QUESTIONS
What is the cost of the trip?
Total cost is: $15,900/couple or $9,90/single occupancy
What does the cost of the trip include?
Five night's accommodations at the Royal Champagne Hotel & Spa, access to the hotel facilities including fitness center, spa, pools and hot tubs.
Breakfast each morning
6 lunches paired with champagne
5 dinners paired with champagne and wine
10 unique experiences including winery visits, cave tours, vineyard excursions and champagne tastings
Group events, including receptions & educational tasting class
Luxury bus transportation to and from Paris, France (pick up location TBD) to our hotel in Champagne, France, all group tours and events.
What does the price not include?
Airfare, activities outside of scheduled events, additional food/wine purchases, souvenirs, etc are not included in the trip cost.