My name is Shiloh Caffrey - owner and founder of We Drink Bubbles. My inspiration to create We Drink Bubbles started with a series of very specific and fortunate circumstances strung together by a common theme: my love for champagne! It all started back in 2016, when my family of four packed up everything we owned and moved across the world to a tiny Italian village to reconnect with our heritage, simplify our life and escape the "rat race" of Southern California.
Within a few short weeks, we quickly sunk into the cadence of Italian life. We savored the time to be present with our rapidly growing children (ages 10 and 12 years old) and leisurely enjoyed every lunch and dinner with a glass (or bottle) of wine. I started to become more interested in the wine culture, especially the surprising abundance of lesser-known, incredible grower champagnes and sparkling wines. After being spoiled with heaps of quality bubbles day after day, my obsession hit an all time high.
When we returned back to California the following year, I consistently found myself gravitating to like-minded bubbles lovers. I started noticing how the sound of a bottle popping could almost instantly change the mood in a room. I became infatuated by the ability bubbles had of transporting me back to the vineyards of Europe. I knew it needed to be part of my future. And it was here where the reality of We Drink Bubbles took root.
I decided to put my teaching career on hold and follow my new found passion of sourcing rare and boutique sparkling wines and champagnes from around the world.
As I built my business, my single focus was (and still is) to bring premium quality bubbles to my Club Members and customers. I began sharpening my passion for wine into more serious efforts and became a certified Sommelier through the Court of Master Sommeliers and one of 400 people to obtain a "Masters of Champagne" certification through the Wine Scholars Guild. I began to forge personal connections with the growers in France and in 2020, began importing an exclusive collection of premium champagnes and sparkling wines. I strive to be a reliable voice for growers, sharing their rich history in each and every bottle they make. As well as strive to be a fun source for education and inspiration that centers around popping a bottle with people you love.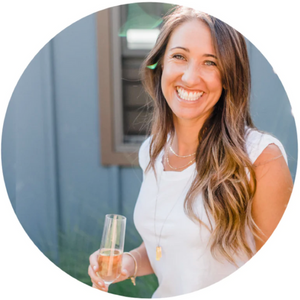 I believe that every moment is worth celebrating – whether it's an anniversary, a special event, or just another Tuesday afternoon. I couldn't be more grateful for my growing community' support and shared passion for traveling, learning, celebrating, and of course, drinking bubbles! So continue with me on this exciting adventure in discovering all things bubbly!
Cheers,  Shiloh