club member trip to Barcelona and The Cava region of Spain
Join me for a 6 day / 5 night luxury vacation designed exclusively for We Drink Bubbles Club Members. These unforgettable moments with the winemakers themselves are truly once in a life time experiences. The week will include private winery tours to wineries closed to the public, intimate meals prepared by Michelin-starred chefs, and curated Cava & Corpinnat tastings, all while enjoying the abundant amenities of our 5-star resort in the heart of Barcelona and Penedès.
_
MAY 26th-31st, 2024
Luxury Accommodations
We will spend 3 nights in the heart of the Penedès countryside and 2 nights in Barcelona's exciting city center. Both of these five-star boutique resorts in Spain, capture the essence of the rich Spanish culture of the region while offering all the luxurious amenities you could ask for. From the peaceful vineyard painted hills of Cava to the exciting rooftop bar of Barcelona, these resorts will offer an experience you will never forget.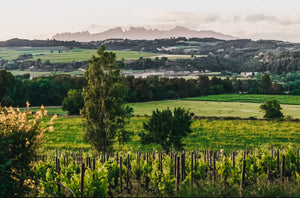 Exclusive Vineyard Tours
Of course, the highlight of the trip will be the winery excursions! We'll visit several private wineries that are closed to the general public and get behind-the-scenes tours from the winemakers themselves. These curated experiences will offer a rare glimpse into the heart of this majestic region and first-hand knowledge from the families of Penedès themselves.
Michelin-Starred Dining
From casually sipping bubbles on terraces overlooking the vineyards of Penedès to venturing further afield to dine in a picturesque Cuadrado, you'll enjoy six days of handcrafted dining experiences, all featuring curated wine pairings. Everything from Michelin-starred meals to authentic Spanish paella feasts prepared by locally acclaimed traditional chefs, these meals will leave lasting memories. 
Curated Wine Tastings
From sparkling wines to the delicious reds, you'll have several opportunities to experience the regions incredible wines. Together, we'll discover the history of the wines and learn more about the specific differences between Cava and Corpinnat.
Cultural immersion
Discover the magic of Spanish culture in just one week! Dive into its captivating culture, from Barcelona's vibrant streets to Penedès' incredible history. Savor tapas, learn to make paella, sip Cava, and admire Gaudí's masterpieces. Immerse yourself in Spain's rich history and traditions for an unforgettable experience.
Itinerary at a glance...
DAY 1
Meet at Pickup Location / Welcome Brunch
Winery Tour, Tasting & Lunch with Raventos
Welcome Reception/Checkin at Hotel
Wine-Paired Dinner at Hotel
DAY 2
Private Winery Experience, Cave Tour, Corpinnat Tasting and Lunch with Recaredo
Happy Hour with the Wine Maker of Rimarts Paired with Local Tapas
Private Dinner at Traditional Catalan Local Favorite
DAY 3
Picnic Breakfast in the Vineyards Followed by a Tasting & Tour at Llopart Winery
Traditional Spanish Lunch at Winery Restaurant
Evening in the Historic Town Center with Casual Tapas and Wine at the Best Wine Bar in Town
DAY 4
A Visit to the Montserrat Mountain Range and Monastery
Lunch at the Historic Hostal Abat Cisneros
Checkin to Barcelona Hotel
Guided Free time to Explore the City
Tapas Dinner at Local Favorite Tapas Bar
DAY 5
Tour Through the Famous Mercat de la Boqueria
Hands On Paella Making Lesson and Lunch
3 Course *Michelin Starred Dinner at ABaC
DAY 6
Farewell Lunch
FIND OUR MOST FREQUENTLY ASKED QUESTIONS
What is the cost of the trip?
Total cost is: $13,200/couple
What does the cost of the trip include?
Five night's hotel accommodations, access to the hotel facilities including fitness center, spa, pools and hot tubs.
Breakfast each morning
6 lunches paired with cava and wine
5 dinners paired with cava and wine
10 unique experiences including winery visits, cave tours, vineyard excursions and cava tastings
Group events, including receptions & educational tasting class
Luxury bus transportation to and from Barcelona, Spain (pick up location TBD) to our hotels, meals, all group tours and events.
What does the price not include?
Airfare, activities outside of scheduled events, additional food/wine purchases, souvenirs, etc are not included in the trip cost.