NAPA VALLEY WEEKEND GETAWAY
Join us for a wine-packed weekend through Napa Valley! This once-in-a-lifetime experience includes exclusives with the winemakers, private cave tours, intimate champagne & wine tastings, meals prepared by renowned chefs, vineyard visits and candle light vineyard dinners.
_
OCTOBER 7th - 9th, 2022
Private Cave Tours
No Napa Valley wine trip would be complete without a few cave tours. We have arranged for our group to visit  some of the most beautiful wine caves in the valley. We will be exploring, barrel tasting and even dining in these remarkable underground caves. I can't wait to share some of my most favorite places with you!
Curated Wine Education
For those curious and eager to delve deeper into the world of wine education, each tasting will provide interesting insight into the process of winemaking. Together, we'll explore the regions' history, learn more about the specific science of making wine, and all sorts of fun facts from growing grapes to aging bottles in your own cellar, and everything in between.
VINEYARD VISITS
We will have the opportunity to cheers in the beautiful vineyards of the Napa Valley. We have organized a few vineyard experiences to soak in the beauty of the vines and learn more about what makes the these Napa Valley grapes so special.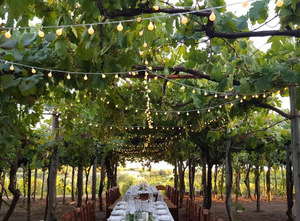 Unique Dining experiences
From casually sipping bubbles on terraces overlooking the expansive views to lunches in a private wine cave to venturing further afield for a candlelit meal in a vineyard, you'll enjoy three days of handcrafted dining experiences, all featuring curated champagne and wine pairings.
Itinerary at a glance...
October 7th
- Terrace Bubbles Tasting Overlooking the Vineyards at Domaine Carneros
- Private Wine-Paired Lunch in the Vineyard with Ghost Block Winery
- Champagne Reception
- Wine dinner in the Garden Cottage at Brix Restaurant
October 8th
- Special Club Champagne Tasting and Education
- 3 Course Wine-Paired Lunch in the Caves at B Cellars
- Champagne Happy Hour
- Wine-Maker Hosted Dinner in the Vineyard with Hayfork Wines
October 9th
- Cave Tour and Bubbles Tasting at Schramsberg Estate
- Exclusive Winery Tour and Lunch at Theorem Vineyards
FIND OUR MOST FREQUENTLY ASKED QUESTIONS
What is the cost of the trip?
Total cost is: $3,600/person
What does the cost of the trip include?
3 Winery lunches paired with champagne and/or wine
2 Wine dinners paired with champagne and wine
8 Winery visits/tours and wine tastings
Luxury transportation for all group activities
What does the price not include?
Airfare, hotel/accommodations, activities outside of scheduled events, additional food/wine purchases, souvenirs, etc are not included in the trip cost. 
Where is the room block?
If you choose to stay with the group, we have secured a room block at Indian Springs esort and Spa and will cordinate your stay for you.
What kind of wines will we be drinking?
We have curated tasting experiences for us to explore the full range of wines Napa Valley has to offer. Each day we will include a mix of Champagne, Sparkling Wine, White and Red wine.